Sprout Social goes S2
A week ago I did a post of Hootsuite vs. Sprout Social for managing your social media and inbound marketing efforts. Some exciting things since that post on the Sprout Social 
platform, that I am excited to share. The team over at Sprout Social have been busy.
So let's jump into the new tools and completely new layout. First, I can say is this looks very promising and I am now finding myself spending more time in Sprout Social then Hootsuite. Could this be the demise of Hootsuite as our tool of choice?
Want to know what is in the future for Sprout Social? Check out our Interview with Nate Turner from Sprout Social.
New Layout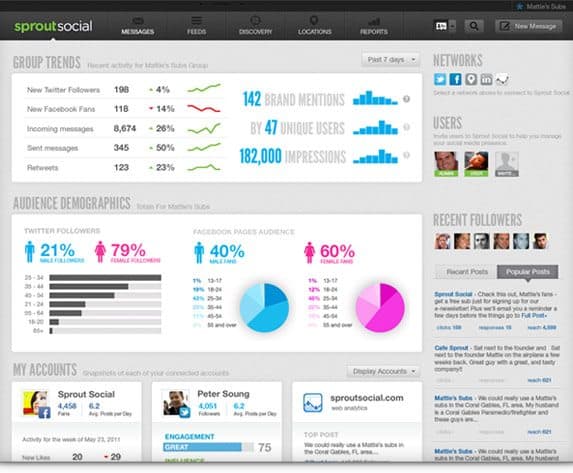 I mentioned in my last post that between Hootsuite and Sprout, the interface was by far a more pleasing experience in Sprout Social. The new layout continues on that user experience and makes it even easier to use. Clean, easy and quick access to the different features in the application.
Features At a glance
*

Denotes New Features since our HootSuite vs. Sprout Social Review

DASHBOARD
Manage multiple networks
View Twitter contact details
Analyze link performance
View follower demographics
Get engagement & influence scores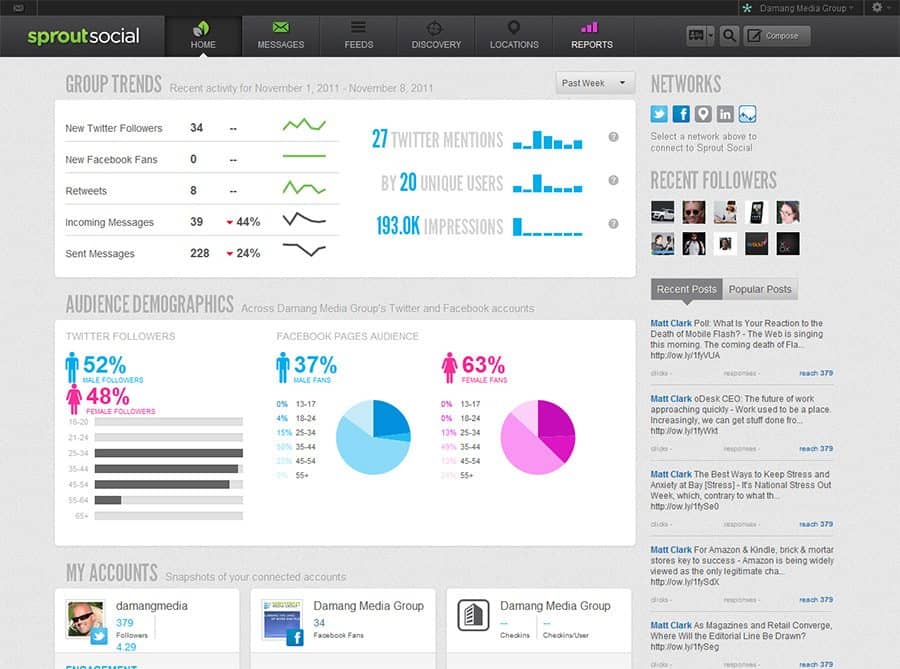 The dashboard has been updated to give you a quick view of what is happening with your social networks. A great overview to see what is happening and what is working.
DISCOVERY
Search customers by location
Monitor competitor activity

*

Search Twitter bios by keyword
Discover customers by interest
Increase targeted Twitter followers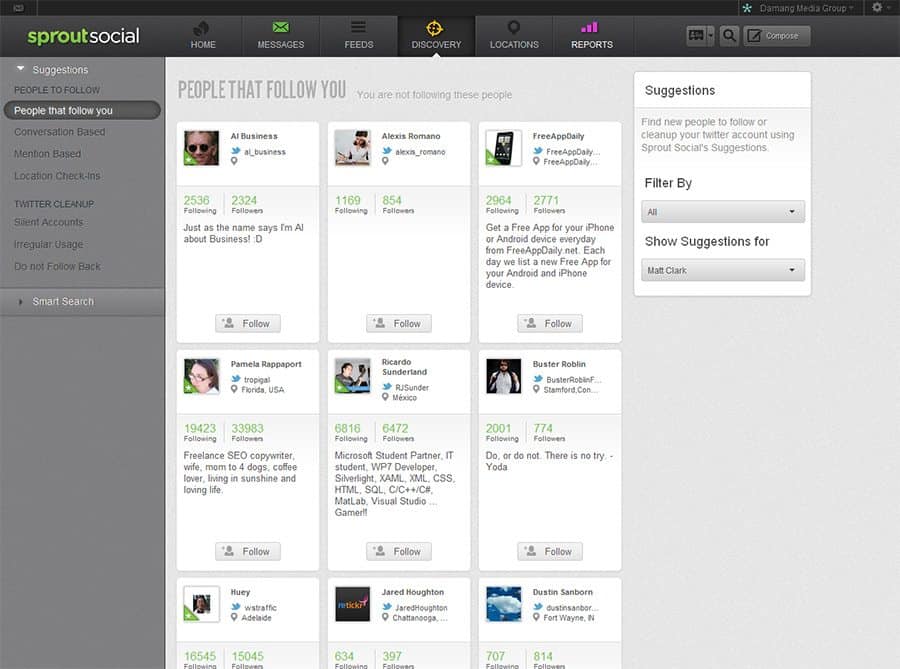 Discovery is a great spot to find who to follow, find people and businesses with similar interest. The tools you need for a process of customer acquisition and support.
ANALYTICS
*

One click PDF reports
Preset or customized date ranges

*

Share social media performance
Track campaign effectiveness
Integrate Google Analytics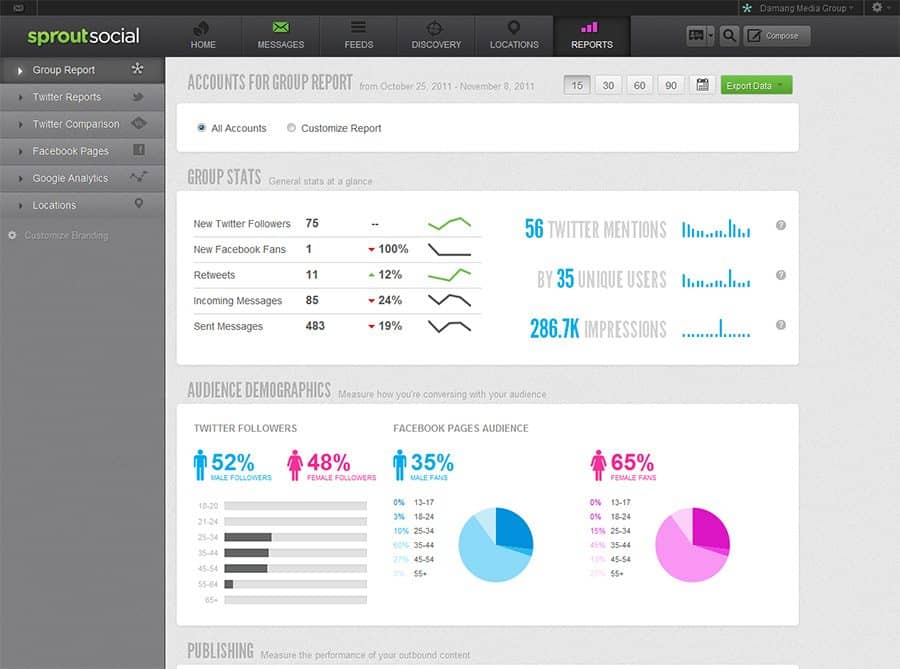 As we continue to look for the ROI in Social Media, trackable results are important. You can use the tools to measure reach, success on campaigns and more. Nice integration with Google Analytics to get an overlay of your site traffic related to social media efforts.
MONITORING
Track relevant keywords
Filter results by news, blogs, etc.
Track business mentions across the web
Sort & flag messages
View integrated social media inbox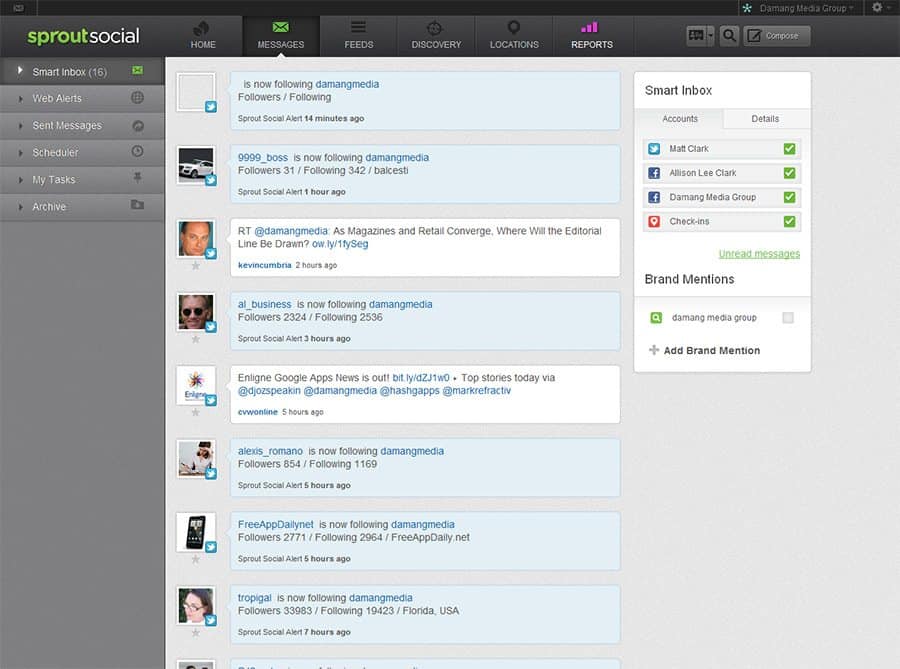 Monitor your company, your keywords, products or services. An inbox so you can see the results easily and deal with it quickly. A real productivity boost here!
CRM
Add notes to contacts
Add/edit contact information

*

Set reminders per contact
View contacts' social media presence
Create groups for contacts
Social CRM, there is an idea to bringing a process to the idea of social media management. CRM in Sprout Social allows you to track your communication with your social contacts. Great tool for social sales process.
LOCATIONS
*

Get SMS/email alerts for checkins
View most active check-in days

*

Find your customers on Twitter
Manage Foursquare & Gowalla
View all tips for your location
If you depend on a physical location for your business, this tool will help. You can now develop a relationship with people in a location that you specify in Sprout locations tab.
MANAGEMENT
*

Create groups & add users

*

Control access for each user

*

Assign tasks to team members

*

Create notes on tasks

*

Get sent message stats
Great new feature, you can have team members access specified social networks. This is a great way to collaborate your efforts with everyone involved.
PUBLISHING
Cross-post messages
Publish from bookmarklet
Schedule messages
Integrate RSS/Atom feeds
Create groups for contacts
* MOBILE
Manage on the go
Assign tasks to team members
Email conversation history
Monitor your brand
Publish/schedule messages
This is huge, in our last post, this was a big issue for me because there was no mobile app. You had to use the browser and that did not work very well. So the only thing now, where is the iPad or Android version?
As you ca see there have been some major enhancements to the Sprout Social platform. I will be using it this week to see how it all comes together. I like the new changes and this may be the demise of Hootsuite as my tool of choice. Stay tuned!
What do you use for Social Media Management?
[x_prompt type="left" title="Social Media Management for Business" message="Social media is a great way to connect with new and existing business. How is your Social Media Strategy? Get a free audit of your business today. " button_text="Get a Free Social Media Audit" href="https://dmgonlinemarketing.com/social-media-for-business/"]