behind the scenes at DMG Online Marketing
"Cloud-based virtual offices" sounds like science fiction, but it's our everyday life. Over the course of over 15 years, we've established these virtual workplaces.
Our main location is in Calgary Alberta Canada, home to the world-famous Calgary Stampede. This is the hub of our digital marketing agency.
We also have offices in Los Angeles, and Pittsburgh representing an incredible range of demographics and time zones.
We love Digital Marketing, never has there been a time where we can be so dynamic and proactive in the marketing process.
Digital marketing allows a business to provide value and service to customers and potential customers. Gone are the days of endless ads, mail-outs, cold calls etc.
Digital Marketing allows a business to market to customers when they are looking for those products or services and not bombard them with stuff they are not interested in.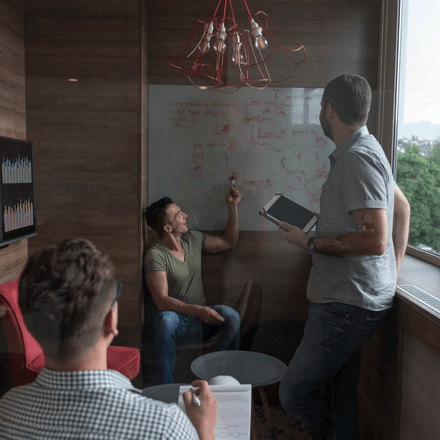 Breathing life into a digital marketing campaign takes time, and that's where our experienced team comes in.
We don't just plant the seed of a digital marketing campaign, then wait for it to grow.
Our first rule and prime directive is collaboration. Working with your business to generate leads, and optimize your online presence.
We take care of digital marketing, then you can do what you do best and that is working on your business and not working on your business.
We Do The Hard Work So You Don't Have To
First, we want to dispel the notion that if you're working, you're not playing. Both are possible, and skilled and successful business owners know that.
Part of what we're best at is making sure we take digital marketing off your plate and put it onto ours so that you can focus on what you love most: working on your business.
The Faces Behind DMG Online Marketing
We Are Not Big But We Are Mighty
Matt Clark
Founder/Strategy
Stephanie Clarke
Content Writer
Do you want to grow your business?