Online Marketing Services
DMG Online Marketing is your online marketing success partner. Our goal is to have a complete suite of online marketing services that will optimize your online presence. We apply our expertise in online marketing strategy, content marketing, graphic design, web development and industry-leading online marketing tools to attract, engage, convert and nurture qualified leads for your business.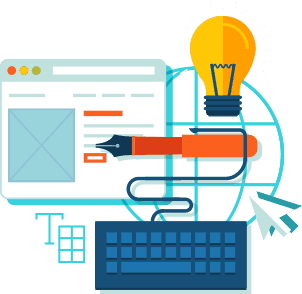 Website Design
To provide your potential buyers with the best user experience, you have to know them. We use our Inbound UX Process to discover who your visitors are, as well as their pain points, to create a website that will turn visitors into customers.
To rank high in search results, your website must have the right SEO strategy. To encourage return visits, it must be well-designed, easy-to-navigate and mobile friendly. To drive conversions, it must provide the right marketing context. Whether you want your website on the HubSpot COSor WordPress, our team can craft a website that both search engines and potential buyers will love.
We are experts at SEO strategy and optimizing websites for conversions and user experience. We have a well-defined website process to get your new website up-and-running and capturing and nurturing qualified leads quickly.
Online Marketing
---
Digital marketing is a marketing strategy that focuses on getting found by customers. This sense is related to relationship marketing and Seth Godin's idea of permission marketing. David Meerman Scott recommends that marketers "earn their way in" (via publishing helpful information on a blog etc.) in contrast to outbound marketing where they used to have to "buy, beg, or bug their way in" (via paid advertisements, issuing press releases in the hope they get picked up by the trade press, or paying commissioned sales people, respectively). Brian Halligan, co-founder and CEO of HubSpot, claims he coined the usage of the term in this sense. – as defined on Wikipedia
Digital Marketing Process
The process of digital marketing, or "connection marketing" as we like to call it, is a 3 step approach. The first being "Get Found", the second "Convert" and the third "Analyze" – and then rinse and repeat. This process brings you into a cycle of treating your website as your business. Evolving and developing to add value to your visitors.
How does this work for your business?
Digital marketing is really about connecting, "connection marketing", with your customers or potential customers. Monitoring the channels those customers use and being a guide to help them navigate the landscape and find a solution for the challenges they are facing. Now they will convert themselves into becoming your customers.
The Channels
Today people have many channels to find the information they need. Social media, blogging, Search Engines are some of the main channels that your customers will use. What makes your channel stand out in the noise? That is why digital marketing should be a core part to your overall business strategy. It allows you to be engaged in multiple channels providing value to the users of those channels.